Snowflake Floating Candles, 2 1/2" Tip to Tip, 50 Per Box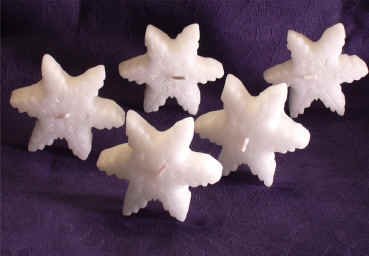 Snowflake Floating Candles, 2 1/2" Tip to Tip, 50 Per Box
Snowflake Floating Candles are pure white and burn approximately 3 hours. These little floating beauties are 2 1/2" Tip to Tip. You don't have to light them to enjoy them. They have a special cheer about them since they resemble real snowflakes.This seasonal candle was also placed in our Wedding Category because we love to decorate Winter weddings!
They are fun to light up for your table centerpiece. Just float them in a container with water. You can stand them up unlit on almost any flat surface such as your mantel or hearth.
Never Leave a Lit Candle Unattended.
Reviews