Lotus Luminary Floating Pool Candles, 5 1/2" Diameter, 8 Per Box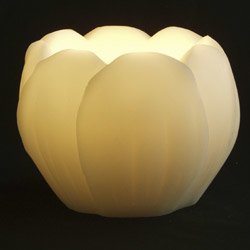 Lotus Luminary Floating Pool Candles, 5 1/2" Diameter, 8 Per Box
Lotus Luminary Candles are reusable. Originally, these candles were designed to be only floating pool candles, but you will find that with their flat bottoms, they can also stand alone or be in groups. This lets your imagination work for you when you decorate both in the pool and around the pool.
Each candle comes with a stone-like plate that sits inside to steady your votive and holder. It is made to contain the heat without damaging the outer wax candle. A 12 hour votive and glass holder are included in each candle. The durable outer wax shell is made strong to make these reusable luminaries.
Their size is approximately 5 1/2" diameter x 4 1/2", 8 per box. Choose Ivory or Bone-White (off white). All are unscented.
See our 'How to Anchor Candles' page and read how to keep your candles in the area of your pool that you desire.
Never Leave a Lit Candle Unattended.

Reviews