Rose Blossom Floating Pool Candles, 5" Diameter, 12 Per Box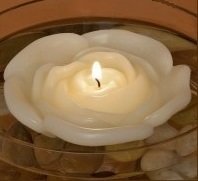 Rose Blossom Floating Pool Candles, 5" Diameter, 12 Per Box
Large Rose Blossom Floating Pool Candles are 5" diameter and are a perfect pool size. They could bring romantic ambiance to your dinner party near the pool. Wouldn't it be romantic to receive a dozen Rose Blossom Candles?
Burn time is approximately 12 hours. Twelve of same color per box. Unscented.

See our 'How to Anchor Candles' page and read how to keep your candles in the area of your pool that you desire.
Never Leave a Lit Candle Unattended.

Reviews