Flameless Wax LED Floating Pool Candles, 6", 8", 11" and 14" Diameter, 6 Per Box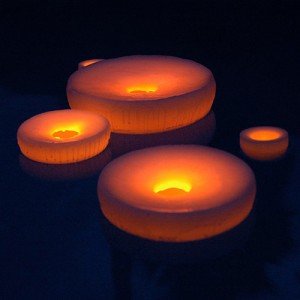 Flameless Wax LED Floating Pool Candles, 6", 8", 11" and 14" Diameter, 6 Per Box
Large Flameless Wax LED Floating Pool Candles come in 6", 8", 11", and 14" diameter. The 6" are $16.00 each, the 8" are $24.00 each which is $48.00 more, the 11" are $28.50 each which is $75.00 more, and the 14" are $48.50 each which is $195.00 more. They come 6 per box, same color per box.
They make wonderful conversation pieces. Although these candles are awesome and majestic in your pool, they can also stand alone or be displayed in groups. They can be part of your table decorations and centerpieces too. Each candle has an ultra bright flicker making it look like it has a flame, just like a real candle will do. Wherever you have a pool, spa, pond or body of water you will completely change the atmosphere with floating candles. Each candle is handmade for exceptional quality and comes with an amber LED light. Battery time is approximately 50 hours. When they finally go a little dim just replace the battery and they are bright again. It's so much fun to mix the large with the small sizes!
See our 'How to Anchor Candles' page and read how to keep your candles in the area of your pool that you desire.
Reviews