Deco Luminary Floating Pool Candles, 5 1/2" Diameter, 8 Per Box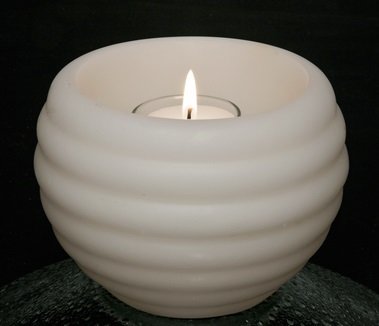 Deco Luminary Floating Pool Candles, 5 1/2" Diameter, 8 Per Box
Large pool size Deco Luminaries are 5 1/2" diameter. They come in white or bone-white (off white), 8 of same color per box. These beautiful Deco Luminaries can float in your pool, pond or spa. You could place some Large Deco Luminaries around your pool on a flat surface because they can stand alone as well.
They are very special not just because of their beauty, but because they are reusable. Their outer shell is made of a durable wax and it is not affected by the heat of the lit votive inside. The votive sits on a flat place inside the luminary. Floating Deco Luminaries are made of real wax and you have the same effective of a real candle glow.
A votive and holder are included in each Large Deco Luminary. All are unscented. Burn time is as long as your votive candles will stay lit.
These large Deco Luminares have been our most popular candle for years. Often, both the Large Deco and Mini Deco Candles are purchased together.
See our 'How to Anchor Candles' page and read how to keep your candles in the area of your pool that you desire.

Never Leave A Lit Candle Unattended!
Reviews